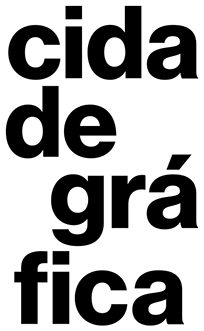 The works seen in this show make up a grouping resulting from the critical eye of three designers turned to the graphic design & city binomial. It is not, however, a conventional exhibition on the profession itself – in which commissioned projects stand out for having skillfully provided feasible solutions or evidence the latest trends in graphic language.
Our choice here was meant to move the divide. The boundaries establishing what design is or is not were set aside to make room to all sorts of contamination. More than the answers, the focus is on the issues raised, on the processes behind the works and, above all, on the strategies whose common denominator is the insightful use of the graphic tools to deal with collective issues.
By benefiting from the fertile ground provided by the city, our desire with this project was to expand the repertoire of possibilities for both of the use of the design lexicon and the ways of practicing design. The set of works on display encourages designers to a more proposition-geared practice disconnected from commissioned works and prone to include research, reflection, political activism. The emphasis is on visual communication that prioritizes the exchange and the dialog by bearing in mind that the urban city is the place of heterogeneity, of encounter and difference, of conflict and negotiation.
Graphic City exhibition ran at Itaú Cultural from November 20, 2014 to January 4, 2015.
Celso Longo, Daniel Trench and Elaine Ramos
Graphic design in the urban context
With the purpose of casting a broader eye on, enhancing understanding and promoting more debate on the foreign and Brazilian graphic design, Itaú Cultural presented in 2014 the Graphic City exhibition. This show gave a panorama from a specific perspective: the investigation of the relationship between designers and urban issues - their complexities and problems -, either in a critical approach or in a creative and/or poetical one.
The show is curated by Celso Longo, Daniel Trench and Elaine Ramos (members of AGI - Alliance Graphique Internationale) and prioritizes both conventional graphic designs (books, posters, sources etc.) and academic research and works of artists who move between the fine arts and graphic design, for it accepts the assumption that work processes are as important as the final product.
The narrative of the show is focused on some Brazilian capitals and the works selected in a national open call - carried out through the Internet for a broader scope. Nevertheless, the exhibition space layout does not drew a distinction between the projects selected in the open call and those chosen by the curators - all of them contributed equally to the debate on graphic design and its many possibilities in the context of the contemporary metropolis.
Itaú Cultural
Content Organization
Júlia Sottili
Lilian Sales
Luciana Soares
Sofia Fan
Text Edition
Maria Clara Matos
Review Supervision
Polyana Lima
Review
Rachel Reis (terceirizada)
Translation
Marisa Shirasuna (terceirizada)
Art Direction
Jader Rosa
Graphic Project
Serifaria (empresa terceirizada)
Photographic Edition
André Seiti
Maíra Acayaba
Photography
André Seiti
Maíra Acayaba
GRAPHIC CITY
Conception and Production
Itaú Cultural
Curatorship
Celso Longo
Daniel Trench
Elaine Ramos
Exhibition Design
METRO ARQUITETOS ASSOCIADOS [Martin Corullon, Helena Cavalheiro, Juliana Ziebell and Marina Pereira]
OPEN CALL FOR PROPOSITIONS
Selection Committee
Agnaldo Farias
Celso Longo
Daniel Trench
Elaine Ramos
Jader Rosa
ITAÚ CULTURAL
President
Milú Villela
Chief Executive Officer
Eduardo Saron
Chief Administrative Officer
Sergio Miyazaki
Department of Visual Arts
Manager
Sofia Fan
Coordinator
Luciana Soares
Executive producers
Júlia Sottili (outsourced)
Lilian Sales
Department of Audiovisual
and Literature
Manager
Claudiney Ferreira
Coordinator
Kety Fernandes Nassar
Audiovisual Production
Camila Fink
Paula Bertola
Editing
Luiza Fagá
Department of Communications
and Relations
Manager
Ana de Fátima Sousa
Art Director
Jader Rosa
Visual Communication
Yoshiharu Arakaki
Desktop Publishing
Serifaria (outsourced)
Photograph Editing
André Seiti
Editorial Production
Lívia G. Hazarabedian
Print Production
Lilia Goes
Text Editing
Agência Lema (outsourced)
Thiago Rosenberg
Revision
Polyana Lima
Ciça Corrêa (outsourced)
Nelson Visconti (outsourced)
Tatiana Diniz (outsourced)
Translation
Marisa Shirasuna
Digital content
Duanne Ribeiro
Renato Corch
Department of Education and Relations
Manager
Valéria Toloi
Coordinator of Educational Service
Samara Ferreira
Educators
Ana Figueiredo (intern)
Bianca Selofite
Claudia Malaco
Débora Fernandes
Fernanda Kunis (intern)
Guilherme Ferreira
Isabela Quattrer (intern)
Josiane Cavalcanti
Maria Meskelis
Paula Pedroso
Raphael Giannini
Samantha Nascimento (intern)
Sylvia Sato
Thiago Borazanian
Coordinator of Support to Visitors
Tatiana Prado
Supervision
Nathalie Bonome
Silvio Santis
Department of Innovation
Manager
Marcos Fernandez Cuzziol
Team
Edson Tadeu de Almeida (outsourced)
João Aleixo da Silva Neto
Department of Event Production
Manager
Henrique Idoeta Soares
Coordinators
Edvaldo Inácio Silva
Vinícius Ramos
Production
Alyne Arroyo Barbosa de Oliveira (outsourced)
Carmen Cristina Fajardo Luccas
Daniel Suares (outsourced)
Erica Pedrosa Galante
Fabio Marotta
Maria Zelada (outsourced)
Wanderley Bispo
Itaú Cultural has made all efforts to find the holders of the copyright over the images/photographic works herein published and the persons appearing in the photographs as well. Should anyone recognize himself/herself or identify any image/photographic work of his/her authorship, please contact us by writing to the e-mail atendimento@itaucultural.org.br.
Itaú Cultural and the curators wish to acknowledge all artists and photographers who have furnished their images to this publication and everyone who contributed to the research.