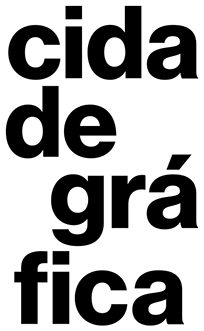 Angela Detanico and Rafael Lain
Paris (France)
Utopia, 2001


Utopia – a set of characters related to the letters of the alphabet – comments on the clash between control and chaos in Brazilian cities. In capital letters, the formal concision of the iconic buildings designed by Oscar Niemeyer; in small letters, the confusion of poles, wires, gratings, dumpsters, billboards, sentry boxes, surveillance cameras, images so often seen in our urban landscapes.
A fragment of Utopia, by Thomas More, composed using the font created by the artists, exemplifies
this contrast.
photo: Maíra Acayaba
The linguist Angela Detanico and the typographer Rafael Lain, both from Caxias do Sul (RS), work with the core subject of writing, reading and translation. Their creations focus on the representation of time and space, crossing poetry, sound and image. The artists live in Paris and some of their artwork are translated to many other languages and exhibited in countries such as Portugal and Japan. They were awarded the Nam June Paik prize in 2004 and represented Brazil at Venice Biennial in 2007.